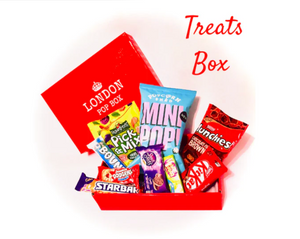 TREATS Box Subscription- MONTHLY
Regular price $25.00 Sale
Product Description
Each month you will receive a LondonPop box filled with a range of treats from London UK.
✓ Ships from the 15th of the month
✓ branded LondonPop box up to 6 products
✓ Worldwide standard shipping
✓ Auto-renews
✓ Cancel or skip a month anytime
Boxes are shipped via Royal Mail, during the 3rd week of each month. Plans renew automatically on the 1st of each month. Skip or cancel a box at anytime from your account setting... no hassle!
WE ARE LONDONERS with a passion for London city life. Each month we will be sending you a box of trendy, and iconic gifts with a flair of London style. We'll uncover the hidden boutiques, pop-up shops and artisan crafters who are carving out new trends and re-designing the concept of contemporary city souvenirs! If you LOVE LONDON as much as we do, let us bring the best of the city to your door!
* EU customers- Please note that customs charges are not included, and these may be issued when your package arrives in your home country.